Obama Seeks to Limit the Insider Threat
President Orders Panel to Assess Tech's Role on Leaks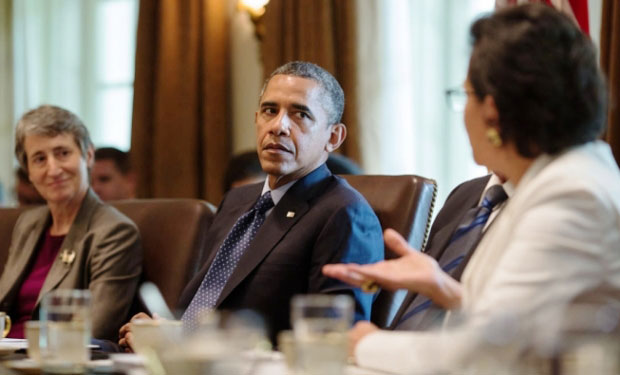 President Obama has ordered National Intelligence Director James Clapper to establish a group to review the latest intelligence and communications technologies to assess the risk of unauthorized disclosure to national security and foreign policy.
See Also: Overcoming the Security Talent Shortage
The review group, which will report its findings to Clapper by Dec. 15, also would assess other policy considerations, such as the need to maintain public trust. A White House spokeswoman, Caitlin Hayden, says Clapper will announce soon the the individuals to be named to the group.
The announcement of the review group, disclosed in a memorandum dated Aug. 12 from Obama to Clapper, comes after leaks by former National Security Agency contractor Edward Snowden and Army Pfc. Bradley Manning, exposing secret NSA surveillance programs and sensitive diplomatic cables [see Manning Verdict's Influence on Snowden].
"These technological advances have brought with them both great opportunities and significant risks for our intelligence community: opportunity in the form of enhanced technical capabilities that can more precisely and readily identify threats to our security, and risks in the form of insider and cyber-threats," Obama said in the memorandum. "I believe it is important to take stock of how these technological advances alter the environment in which we conduct our intelligence mission."
Bringing Transparency to Surveillance
The issuance of the memorandum occurred three days after Obama held a news conference to outline a four-part plan to bring more transparency to the way the U.S. intelligence community surveils American citizens. Among those four proposals would be the creation of this high-level group of outside experts to review U.S. intelligence and technologies.
The other three components of the plan would have Obama work with Congress to reform Section 215 of the Patriot Act, the law that allows the collection of metadata on telephone calls, and to improve public confidence in the Foreign Intelligence Surveillance Court by creating a public advocate that can defend privacy in the court. The president also directed the intelligence community to make public as much information about intelligence-gathering programs as possible.
In his news conference, Obama said he believes the NSA and intelligence community aren't abusing the surveillance programs in collecting information about American citizens. "I'm comfortable that if the American people examined exactly what was taking place, how it was being used, what the safeguards were, that they would say, 'You know what, these folks are following the law and doing what they say they're doing,'" the president said. "But it is absolutely true that with the expansion of technology - this is an area that's moving very quickly - with the revelations that have depleted public trust, that if there are some additional things that we can do to build that trust back up, then we should do them.
Not Nearly Sufficient
What the administration plans to do hasn't satisfied civil liberties and privacy advocates. "While the initial reforms outlined by the president are a necessary and welcome first step, they are not nearly sufficient," says Anthony Romero, executive director of the American Civil Liberties Union. "The bulk collection of Americans' phone records is only one of several troubling programs disclosed over the last two months."
The bulk collection is allowed under Section 215, but Romero and other civil liberties and privacy advocates say Obama in his plan failed to address Section 702 of the Foreign Intelligence Surveillance Amendments Act, which permits the collection, monitoring and retaining the contents of Americans' communications without a warrant.
"We take Obama's promises ... with a healthy dose of skepticism," says Rainey Reitman, director of the activism team at the Electronic Frontier Foundation, a group promoting online privacy rights. "He may be paying lip service to accountability and transparency, but the devil will be in the details when it comes to whether his proposals will be effective."
Allan Friedman, research director, Center for Technology Innovation, Brookings Institution, says the Obama administration must show some restraint in its efforts to bring transparency to surveillance collection. "The administration, for its part, faces a rather delicate balancing act," he says. "They need to reassure the security community that it did nothing wrong, while still communicating to both American and foreign audiences that it has seen the light, and will behave better in the future."
Jason Healy, director of the Cyber Statecraft Initiative of the think tank Atlantic Council, says the revelations surrounding the surveillance programs have distracted the U.S. government in pursuing its foreign policy goals. "Right now, [Secretary of State John] Kerry can't discuss other things in Latin America without having to talk about America's cyber-surveillance program," he says. "Definitely, it's time for a very strong switch"
Seeking Congressional Cooperation
The administration's initiatives to bring transparency to collecting intelligence on Americans is somewhat vague, and that haziness could prove to be one of its strengths, at least now, because of the need to win Congressional approval on some elements of the program. "By not putting forth a specific proposal that the Republican leadership will feel obliged to oppose simply because passing it would give the president a victory, he may have done the right thing," says Franklin Reeder, a former Office of Management and Budget executive who co-founded the Center for Internet Security.
Still, Congress enacting reforms could be an uphill battle, as Reeder notes that Obama's lack of heavy lobbying on immigration reform hasn't yet won enough Republican support for that legislation.
And support for reform isn't universal, with some lawmakers believing America's e-spying methods have prevented another 9/11 from happening. "The argument that the surveillance is needed to counter terrorism is sufficient for many people to simply agree - with anything," says Eugene Spafford, executive director of Purdue University's Center for Education and Research in Information Assurance and Security. "More fundamental questions simply do not seem to be within scope for this Congress."
Spafford points outs that supporters of the current way the federal government collects data for intelligence feel changes in those programs could be undermined by more transparency. "Intelligence programs, by their very nature, are weakened when adversaries know more about them," he says. "That knowledge exposes limitations, blind spots and biases that can be exploited by clever adversaries. ... We probably already have more transparency than any other government in the world that does this kind of monitoring - and there are many."
Yet Brookings' Friedman questions the depth of the support for existing intelligence gather programs. "Politically, the leadership of both parties support the NSA and the last two administrations' approaches to fighting terrorism, and generally trusting the intelligence community," he says. "However, they are not terribly passionate about these views. Opponents of these programs not only have the news cycle in their favor, but their supporters are much more vocal."